Digital Core Design and Resquant are ready for quantum computing-resistant cryptography
NIST, the U.S. Department of Commerce's National Institute of Standards and Technology has just announced (July the 5th, 2022) the first Quantum-Resistant Cryptographic Algorithms. Digital Core Design and Resquant already have them in their joint portfolio.
Cooperation between two Polish companies denotes an unreachable so far level of security. DCD has been designing IP Cores since 1999 and Resquant brings an innovative approach to cryptography in electronics. The synergy between DCD's CryptOne CPU and Resquant's hardware-implemented post-quantum cryptography solution is a real answer to the new challenges and threats to which present-day cryptography is not ready to respond.
The U.S. Department of Commerce's National Institute of Standards and Technology (NIST) has chosen the first group of encryption tools that are designed to withstand the assault of a future quantum computer, which could potentially crack the security used to protect privacy in the digital systems we rely on every day — such as online banking and email software. The four selected encryption algorithms will become part of NIST's post-quantum cryptographic standard, expected to be finalized in about two years.
NIST has chosen a Kyber for Public-key Encryption and Key-establishment and reccomended Dilithium for digital signage – says Jacek hanke, DCD CEO – Both of them have been already implemented in FPGA by Resquant and connected with DCD's CryptOne cryptographic system are ready to be utilized in security related desings especially in next-gen smart-cards or TLS accelerators.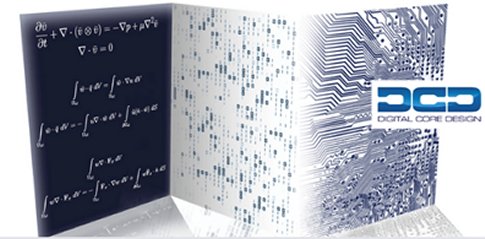 Digital Core Design is a well know IP Core provider and SoC design house. Since 1999, the company mastered more than 70 different architectures which have been utilized in more than 500 000 000 electronic devices around the globe. Among them is e.g. World's Fastest 8051 CPU, 100% safe cryptographic system, and 32-bit fully scalable 32-bit CPU.
"After two years of R&D work, we've managed to implement our IP Core on FPGA and integrate it with our post-quantum cryptography modules. That's why cooperation with DCD and their experience in CPU design enables us to integrate our IP Core with DCD's CPUs" – explains Tomasz Szcześniak, Resquant CEO.
Especially now, when NIST announced (July the 5th, 2022) the new standards for the Post Quantum Cryptography algorithms, IT needs a trusted solution that answers these standards.
The development of quantum computers presents a plethora of opportunities, but also new challenges and threats to which present-day cryptography is not ready to respond. Like e.g. there are already algorithms that will allow a powerful quantum computer to bypass the existing cryptographic cybersecurity.
ResQuant is one of the very few companies in the world addressing this problem with a practical solution – adds Jacek Hanke, Digital Core Design CEO – we're glad that the D32PRO – a CPU we've designed from scratch and that fuels our CryptOne cryptographic system will integrate ReQuant's cryptographic IP Cores. That combination brings a ready solution for post-quantum cybersecurity.
CryptOne is a 100& safe cryptographic system based on DCD's fully scalable 32-bit CPU (https://www.dcd.pl/product/d32pro/). It has been designed from scratch by DCD's engineers. – Programmers around the globe know the source code of ARM or RISC-V CPUs – says Hanke – our D32PRO's source code hasn't been published and never be – this prevents backdoors at the deepest level.
Present-day cybersecurity uses asymmetric (public key) cryptography standards, such as Rivest-Shamir-Adleman (RSA) and Elliptic Curve Cryptography (ECC). They are based on math problems that cannot be solved by today's computers. However, two algorithms are already invented – Shor's and Grover's – that can solve these problems on a quantum computer. It means that as soon as there is a quantum computer powerful enough, all currently used public-key cryptography will be useless. NATO's Emerging Security Challenges Division stated clearly that "(…) the threat is already present. With the prospect of future quantum computers, hackers could steal encrypted information today, store it and decrypt it in 10-15 years using a future quantum computer."
ResQuant's IP Core with DCD's processor maintains its modular architecture and uses new, post-quantum (or quantum-resistance) algorithms, the encryption which, unlike the currently used algorithms, can't be broken by a quantum computer.
This approach additionally allows the combining of post-quantum, current (ECC and RSA), and, if required, the customer's algorithms.
More information: www.dcd.pl and www.resquant.com
About ResquantI
Resquant is a deep-tech startup founded in 2020 in Łódź, Poland, operating on the border of science and business. The company exists to protect sensitive data worldwide from threats caused by the rapid development of quantum computers.
It is done by developing an IP Core of the cryptographic accelerator with integrated post-quantum cryptography algorithms and modular architecture allowing integration with customers' algorithms. More information can be found on https://www.resquant.com/
About Digital Core Design
Digital Core Design has two decades of IP market experience. The company was founded in 1999 in Bytom, Poland, and has mastered more than 70 different architectures, among them the World's Fastest 8051 CPU, Royalty-Free and Fully Scalable 32-bit CPU, and 100% cryptographic system. Automotive IP Cores designed by DCD-SEMI are offered as the CAN ALL package – a tailored made IP Core which has been successfully implemented by dozens of automotive companies such as VW, Toyota, and now, GuardKnox. More information can be found at www. dcd. pl www.dcd-semi.com, www.cfdsemi.com, and www.crypt-one.com.
DCD is celebrating 20th Anniversary
More than 500 000 000 electronic devices around the globe have been based on DCD's IP Cores. Among them one can easily find YOUR solution. Taking the chance we'd like to thank you for our hitherto cooperation, cause this 20th anniversary for DCD wouldn't be possible without you.
Taking the chance to thank you, we've prepared some gifts for you. First one is our summer promo – 20% off from the IP Core price for 20th anniversary. Sarting from June till September you can easily license any of our IP Core with great discount. No matter if it's 32-bit royalty-free CPU, I3C or World's Fastest 8051 IP Core – they're all here, waiting for you and your project. Just drop us an e-mail and let us know what you need.
The second one is our… knowledge. That's why, taking the chance, we'll be publishing some of our best case studies from last 20 years. First one is here: http://mailchi.mp/77bf92df4dd1/cryptographic-ip-core-system
And last but not least – please remember, we're here for you! Let us know by e-mail, social media, phone what can we do for you.
Meet us at Hannover Messe 2019
DCD unveils CryptOne cryptographic system
at Hannover Messe, Germany (01-05.04.2019) – the biggest industry fair in Europe!
Digital Core Design, celebrating 20th anniversary in 2019, mastered a completely new and innovative cryptographic systeme. Basing on two decades of IP Core market experience and best Polish cryptographers solutions, DCD's programmers introduced:
CryptOne, a 100% safe cryptographic system.
What is the top concern for developing IoT solutions? 39% of the answers stated: security (Copyrighe 2018, Eclipse Foundation, Inc.). That's why Digital Core Design decided to create an innovative cryptographic system which will boost encryption & decryption performance. Eager to know more? Join us in Hannover, Germany starting from April 1st till 5th. Official press conference will be held on Monday, 1st of April at Polish National Booth (Hall 27, H12) – 12:00 CET.
DCD's GDPR data protection policy
Digital Core Design has been established in 1999 and since then excellent cooperation with our Customers has always been a key issue. That's why we can ensure you that all data you provide us so far will be safely stored, basing on our best practices. If there's any concern or other question, DCD's team is at your service: info@dcd.pl, tel. +48 32 282 82 66, ul. Wroclawska 94 41-902 Bytom.
Sincerely,
The DCD Team
Context and overview
Key details
Policy prepared by:                                      Digital Core Design Sp. z o.o. Sp. k.
Approved by board:                                      09/05/2018
Policy became operational on:                    11/05/2018
Introduction
Digital Core Design needs to gather and use certain information about individuals.
These can include customers, suppliers, business contacts, employees and other people the organisation has a relationship with or may need to contact.
This policy describes how this personal data must be collected, handled and stored to meet the company's data protection standards — and to comply with the law.
Why this policy exists
This data protection policy ensures Digital Core Design Sp. z o.o. Sp. k.:
Complies with data protection law and follow good practice
Protects the rights of staff, customers and partners
Is open about how it stores and processes individuals' data
Protects itself from the risks of a data breach
Data protection law
The General Data Protection Regulation describes how organisations — including Digital Core Design Sp. z o.o. Sp. k. — must collect, handle and store personal information.
These rules apply regardless of whether data is stored electronically, on paper or on other materials.
To comply with the law, personal information must be collected and used fairly, stored safely and not disclosed unlawfully.
The Data Protection Act is underpinned by eight important principles. These say that personal data must:
Be processed fairly and lawfully
Be obtained only for specific, lawful purposes
Be adequate, relevant and not excessive
Be accurate and kept up to date
Not be held for any longer than necessary
Processed in accordance with the rights of data subjects
Be protected in appropriate ways
Not be transferred outside the European Economic Area (EEA), unless that country or territory also ensures an adequate level of protection
People, risks and responsibilities
Policy scope
This policy applies to:
The head office of Digital Core Design Sp. z o.o. Sp. k.
All staff and volunteers of Digital Core Design Sp. z o.o. Sp. k.
All contractors, suppliers and other people working on behalf of Digital Core Design Sp. z o.o. Sp. k.
It applies to all data that the company holds relating to identifiable individuals, even if that information technically falls outside of the GDPR data protection policy. This can include:
Names of individuals
Postal addresses
Email addresses
Telephone numbers
…plus any other information relating to individuals
Data protection risks
This policy helps to protect  Digital Core Design Sp. z o.o. Sp. k. from some very real data security risks, including:
Breaches of confidentiality. For instance, information being given out inappropriately.
Failing to offer choice. For instance, all individuals should be free to choose how the company uses data relating to them.
Reputational damage. For instance, the company could suffer if hackers successfully gained access to sensitive data.
Responsibilities
Everyone who works for or with Digital Core Design Sp. z o.o. Sp. k. has some responsibility for ensuring data is collected, stored and handled appropriately.
Each team that handles personal data must ensure that it is handled and processed in line with this policy and data protection principles.
However, these people have key areas of responsibility:
The board of directors is ultimately responsible for ensuring that Digital Core Design Sp. z o.o. Sp. k. meets its legal obligations.
The data protection officer is responsible for:
Keeping the board updated about data protection responsibilities, risks and issues.
Reviewing all data protection procedures and related policies, in line with an agreed schedule.
Arranging data protection training and advice for the people covered by this policy.
Handling data protection questions from staff and anyone else covered by this policy.
Dealing with requests from individuals to see the data Digital Core Design Sp. z o.o. Sp. k. holds about them (also called 'subject access requests').
Checking and approving any contracts or agreements with third parties that may handle the company's sensitive data.
The IT manager, is responsible for:
Ensuring all systems, services and equipment used for storing data meet acceptable security standards.
Performing regular checks and scans to ensure security hardware and software is functioning properly.
Evaluating any third-party services the company is considering using to store or process data. For instance, cloud computing services.
The marketing manager is responsible for:
Approving any data protection statements attached to communications such as emails and letters.
Addressing any data protection queries from journalists or media outlets like newspapers.
Where necessary, working with other staff to ensure marketing initiatives abide by data protection principles.
General staff guidelines
The only people able to access data covered by this policy should be those who need it for their work.
Data should not be shared informally. When access to confidential information is required, employees can request it from their line managers.
Digital Core Design Sp. z o.o. Sp. k. will provide training to all employees to help them understand their responsibilities when handling data.
Employees should keep all data secure, by taking sensible precautions and following the guidelines below.
In particular, strong passwords must be used and they should never be shared.
Personal data should not be disclosed to unauthorised people, either within the company or externally.
Data should be regularly reviewed and updated if it is found to be out of date. If no longer required, it should be deleted and disposed of.
Employees should request help from their line manager or the data protection officer if they are unsure about any aspect of data protection.
Data storage
These rules describe how and where data should be safely stored. Questions about storing data safely can be directed to the IT manager or data controller.
When data is stored on paper, it should be kept in a secure place where unauthorised people cannot see it.
These guidelines also apply to data that is usually stored electronically but has been printed out for some reason:
When not required, the paper or files should be kept in a locked room.
Employees should make sure paper and printouts are not left where unauthorised people could see them, like on a printer.
Data printouts should be shredded and disposed of securely when no longer required.
When data is stored electronically, it must be protected from unauthorised access, accidental deletion and malicious hacking attempts:
Data should be protected by strong passwords that are changed regularly and never shared between employees.
If data is stored on removable media (like a CD or DVD), these should be kept locked away securely when not being used.
Data should only be stored on designated drives and servers, and should only be uploaded to an approved cloud computing services.
Servers containing personal data should be sited in a secure location, away from general office space.
Data should be backed up frequently. Those backups should be tested regularly, in line with the company's standard backup procedures.
Data should never be saved directly to laptops or other mobile devices like tablets or smart phones.
All servers and computers containing data should be protected by approved security software and a firewall.
Data use
Personal data is of no value to Digital Core Design Sp. z o.o. Sp. k. unless the business can make use of it. However, it is when personal data is accessed and used that it can be at the greatest risk of loss, corruption or theft:
When working with personal data, employees should ensure the screens of their computers are always locked when left unattended.
Personal data should not be shared informally. In particular, it should never be sent by email, as this form of communication is not secure.
Data must be encrypted before being transferred electronically. The IT manager can explain how to send data to authorised external contacts.
Personal data should never be transferred outside of the European Economic Area.
Employees should not save copies of personal data to their own computers. Always access and update the central copy of any data.
Data accuracy
The law requires Digital Core Design Sp. z o.o. Sp. k. to take reasonable steps to ensure data is kept accurate and up to date.
The more important it is that the personal data is accurate, the greater the effort Digital Core Design Sp. z o.o. Sp. k. should put into ensuring its accuracy.
It is the responsibility of all employees who work with data to take reasonable steps to ensure it is kept as accurate and up to date as possible.
Data will be held in as few places as necessary. Staff should not create any unnecessary additional data sets.
Staff should take every opportunity to ensure data is updated. For instance, by confirming a customer's details when they call.
Data should be updated as inaccuracies are discovered. For instance, if a customer can no longer be reached on their stored telephone number, it should be removed from the database.
Subject access requests
All individuals who are the subject of personal data held by Digital Core Design Sp. z o.o. Sp. k. are entitled to:
Ask what information the company holds about them and why.
Ask how to gain access to it.
Be informed how to keep it up to date.
Be informed how the company is meeting its data protection obligations.
If an individual contacts the company requesting this information, this is called a subject access request.
Subject access requests from individuals should be made by email, addressed to the data controller at info@dcd.pl. The data controller can supply a standard request form, although individuals do not have to use this.
Individuals will be charged €10 per subject access request. The data controller will aim to provide the relevant data within 14 days.
The data controller will always verify the identity of anyone making a subject access request before handing over any information.
Disclosing data for other reasons
In certain circumstances, the Data Protection Act allows personal data to be disclosed to law enforcement agencies without the consent of the data subject.
Under these circumstances, Digital Core Design Sp. z o.o. Sp. k. will disclose requested data. However, the data controller will ensure the request is legitimate, seeking assistance from the board and from the company's legal advisers where necessary.
Providing information
Digital Core Design Sp. z o.o. Sp. k. aims to ensure that individuals are aware that their data is being processed, and that they understand:
How the data is being used
How to exercise their rights
To these ends, the company has a privacy statement, setting out how data relating to individuals is used by the company.
D32PRO awarded as the most innovative
The D32PRO is a deeply embedded, fully scalableand royalty-free 32-bit RISC CPU. It's been designed from the scratch by Digital Core Design, the company known for more than 70 other IP Cores, among them e.g. the World's Fastest 8051 IP Core, the DQ80251. Awarded D32PRO CPU features performance up to 1.52 / 2.67 DMIPS/MHz or 2.59 CoreMarks/MHz and small footprint starting at 10.6k/6.8k ASIC gates.

The non-commercial "Teraz Polska" Competition has been held for the past twenty years, under the honorary patronage of President of the Republic of Poland, awarding a group of best products and services, which thanks to their quality, technology and functionality, stand out in the market and can be a model for others.
– The Award for D32PRO IP Core is a second succesive distinction given to our silicon-proven CPU –  emphasizes Jacek Hanke, DCD's CEO – It's a proof that both customers and other industry experts estimate innovative product as our CPU.  Taking the Chance I can just point that this product is a basis for our next product which will be a 100% safe cryptCPU, called the CryptOne.
To date the Competition Jury has granted nearly 500 awards, which have entitled recipients to use the "Teraz Polska" ("Poland Now") Emblem and to take advantage of the Foundation's promotional program, which offers discounts on advertising in the media, an opportunity to participate in foreign fairs and exhibitions co-organized by the Foundation, or membership in an elite "Teraz Polska" club, bringing together previous Awardees of the Competition.
D32PRO named as a Product of the Future
The D32PRO is a deeply embedded, fully scalable and royalty-free 32-bit RISC CPU. It's been designed from the scratch by Digital Core Design, the company known for more than 70 other IP Cores, among them e.g. the World's Fastest 8051 IP Core, the DQ80251. The newest DCD's CPU features performance up to 1.52 / 2.67 DMIPS/MHz or 2.59 CoreMarks/MHz and small footprint starting at 10.6k/6.8k ASIC gates.
"Polish Product of the Future" (Polski Produkt Przyszłosci – PPP) competition has been organized annually since 1997. Since 2008, the competition and promotion of winners is co-financed by the European Union. The competition's objective is to promote and disseminate information on achievements of innovative techniques and technologies which have the opportunity to be applied on Global market. The competition is intended for innovative enterprises, research and development units, scientific institutes, research centers and also for individual inventors from EU Member States.
The Award Gala was held on November the 30th in Warsaw, Poland, where DCD's CEO, Mr Jacek Hanke received the award from the hands of Mrs Patrycja Klarecka, PAED's CEO. – We've designed the D32PRO from the scratch, basing on our best experience both from our World's Fastest 8051 and several other innovative IP Cores – said Jacek Hanke, CEO of Digital Core Design – the D32PRO is silicon proven, fully scalable and like all other DCD's IP Cores – royalty-free.
DCD's 32-bit CPU has been awarded by Polish Agency for Enterprise Development not only for the performance,small footprint (starting at 10.6k/6.8k ASIC gates) and very high clock frequency (up to 1 GHz in modern ASIC technologies) but most of all for flexible licensing methods. – Starting from 1999, all of our IP Cores are royalty-free – said Jacek Hanke – many of our customers emphasized the lack of royalty-free 32-bit IP Cores, so… we made a step further and offer D32PRO in a royalty-free model and flexible Fast Track License.
All peripherals on board
The D32PRO has been equipped with Floating Point Coprocessor and great variety of available peripherals like e.g. USB, Ethernet, I2C, SPI, UART, CAN, LIN, RTC, HDLC, Smart Card etc. There's no problem to add other peripherals to the CPU.
3-stage pipeline – ultimate code density
The D32PRO is a universal & fully configurable solution, which effectively executes application codes both with many jumps (e.g. switch tree) and homogeneous one (e.g. arithmetic operations). This wouldn't be possible without variable pipelining. Another innovation lies in the command list, which is based on special instructions – derivatives to the higher level language like e.g. C. That approach enabled ultimate code density, which goes in hand with short and compact command list. The D32PRO has been equipped with 13 general registers R0-R12and most of them are being refreshed automatically after interruption. Thanks to it the CPU accelerates interrupts and context switching in the real time systems. And if it's still not enough, the D32PRO has been equipped with 1 non-maskable and several real-time reconfigurable interrupts: like its activity, priority level and number of automatically stacked registers.
Low power for (not only) IoT
Modern 32-bit CPU should be designed with a special concern for power-performance ratio. That's why the D32PRO emphasizes low power consumption. This wouldn't be possible without special PMU (Power Management Unit), which dynamically controls the clock's frequency. Thanks to it an engineer can program power-saving mode for the CPU, where all the peripherals will be working with nominal clock. Moreover, the CPU itself can be moved to the STOP mode, with the clock detached from it. Then it can return to the normal mode by an interrupt from any peripheral. There's no problem for the CPU to switch off the peripherals which are unused at the moment, and the same save additional power.
Debugger – Bootloader
The D32PRO, similarly to DCD's 8051 IP Cores, is delivered with a built-in hardware debugger. But this special solution has been tailored for 32-bit CPU, that's why it enables full control from Eclipse level (complete Eclipse debugging system, GCC => USB 2.0 cable => D32PRO). Moreover, in DCD's debugger only two pins have been used, when in competitive solutions communication requires the use of at least 5 pins (JTAG). The hardware bootloader unit enables firmware program memory saving directly from external Flash memory connected through an SPI interface. Moreover, the bootloader has been equipped with a hardware encryption tool stored in non-volatile memory. It can significantly protect firmware against reverse engineering.
Digital Core Design at Hannover Messe 2017 Trade Fair
Digital Core Design for Industry 4.0
INDUSTRY 4.0 was the main topic for the Hannover Messe 2017. So there's no wonder that the D32PRO – deeply embedded, royalty-free 32-bit CPU and CryptOne – Absolutely Safe Crypto CPU have been chosen to represent best Polish ICT companies in Polish National Pavillion.
During World's biggest industrial fair, Hannover Messe 2017, Digital Core Design was looking for customers targeting their new product for industrial, deeply-embedded, smart city and IoT electronics. – In DCD we believe that royalty-free business model, outstanding performance and ultimate low power consumption are the key – said Jacek Hanke, DCD's CEO.
In less than 5 days DCD's presentation stand have been visited by thousands of potential customers, technology influencers and politicians. Among them e.g. Polish Prime Minister Mr. Mateusz Morawiecki, Internal Market, Industry, Entrepreneurship and SMEs EU Commissioner Mrs. Elzbieta Bienkowska and many other.
The World's fastest 8051 CPU
Digital Core Design, a leading IP Core provider and System-on-Chip (SoC) design house from Poland, introduced the new DQ80251 Core. DCD's microprocessor is the World's fastest solution. Confirmation came after successful tests run on Dhrystone 2.1 benchmark program, which showed clearly, that Polish IP Core is up to 56.8 times faster than the original 8051 at the same clock frequency.
Bytom, Poland. Digital Core Design introduced the newest 8051 implementation, which is significantly much more efficient than any other solution available on the market. Independent tests were carried out on Dhrystone 2.1 benchmark program, which is the most representative of general processor (CPU) performance. Achieved results were recognized by many IT professionals as revolutionary. DCD's DQ80251, the quad-pipelined ultra-high performance IP Core is 56.8 times faster than the original 8051 at the same clock frequency. – Our DQ80251 runs at 300MHz without losing's breath. It was possible not because of adding higher frequency, but thanks to unique architecture we implemented. I can just mention that original 8051, to get equivalent performance, must be clocked with 17 000 MHz – says Thomas Krzyzak, vice president of Digital Core Design. Moreover, Polish Core provides up to 0.54311 DMIPS/MHz (VAX MIPS) and uses only 14 500 ASIC gates, which locates DQ80251 far away from other competitors. These unique features effect on DCD's solution as a perfect choice for all embedded applications demanding cost effective and best possible solutions.
DQ80251 family provides efficient real-time JTAG based DoCD debugger and is fully user configurable, which influences on its unique features, which are tailored to exact specification. Digital Core Design's 8051 have been sold to hundreds of customers during the last decade, among them Intel, Siemens, Philips, Toyota or General Electric. They have been provided by DQ80251 family as a heritage of DP8051/DQ8051.
DCD's DQ80251 family is available as VERILOG Source code, VHDL Source code and FPGA Netlist formats. As customers differ themselves, the same DCD's IP Cores are designed in a wide variety of additional packaging and flexible licensing options.
More information: http://dcd.pl/ipcore/198/dq80251/